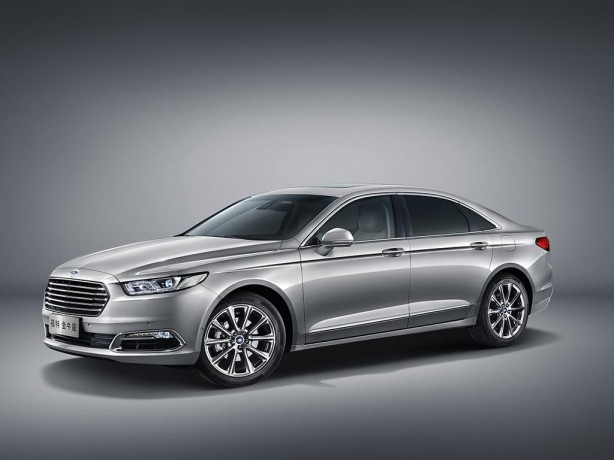 Ford has introduced the 2016 Ford Taurus to China for the first time at a special event in Shanghai.
"The Ford Taurus we're introducing today shows the amazing strength and flexibility of our One Ford plan," said John Lawler, chairman and CEO, Ford China. "It combines the best of our global product development and large-car expertise with a clear understanding of what Chinese customers in this segment want."
Ford made full use of its global design and development resources to create the Taurus. Early in the design process, designers and engineers from around the world immersed themselves in China to gain a deeper understanding of the market and key cultural factors influencing design and vehicle preferences. In-depth research of target customers – accomplished, respected professionals – helped to fine-tune design and engineering targets to create an exceptional new vehicle.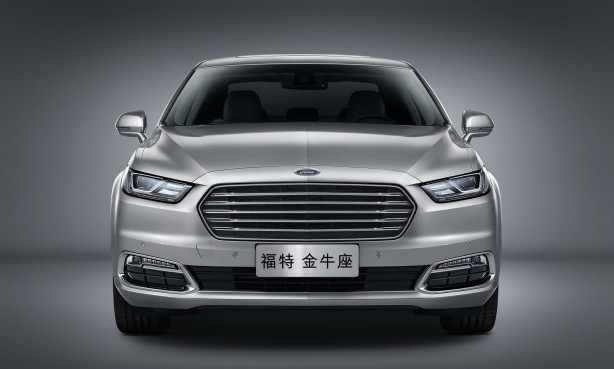 "The Ford Taurus was created for highly sophisticated consumers in China who need an equally sophisticated vehicle for both business and personal use," said Marin Burela, president, Changan Ford Automobile Co. "With a powerful, confident and inviting design, a spacious and elegant interior, impeccable craftsmanship, compelling performance and advanced technology, the Ford Taurus makes no compromises as an innovative flagship sedan."
Designed and engineered in Australia, the new Ford Taurus sports a shield-like, clipped trapezoidal five-bar grille flanked by a pair of slender LED headlights with signature daytime running lights.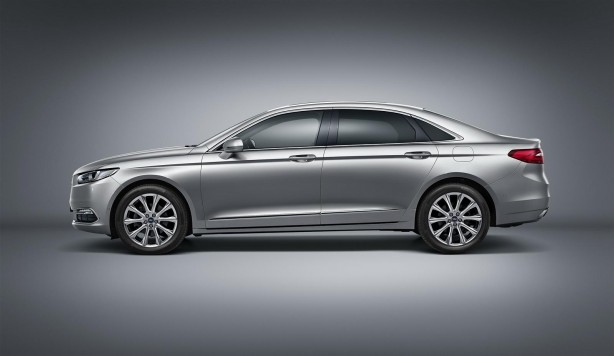 In silhouette, the designers elevated the exterior with fine details, including upswept highlight trim on the doors. Polished 19-inch 10-spoke alloy wheels help to give a bold and premium stance.
At the rear of the vehicle, multi-piece LED tail lights incorporate a distinctive signature appearance. A bright chrome bar connecting the tail lights highlights the vehicle's width for a sense of understated athleticism. Integrated chrome exhaust tips complete the rear and offer another discreet hint at performance.
"We wanted to create a vehicle that displays a maturity of design with balanced and harmonious proportions, tailored to the business customer in China," said Todd Willing, Asia Pacific Design Director and exterior designer for the Ford Taurus. "Our aim was to create a vehicle that is elegant, inviting and quietly confident."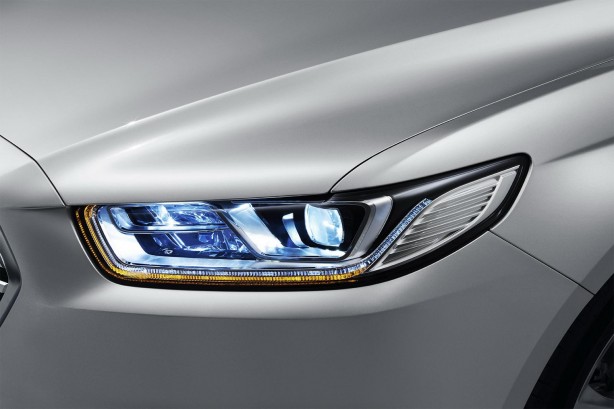 The sense of balance and harmony continues inside with a clean, modern cabin that makes use of smart design and strong horizontal elements for an airy, spacious feel. Above the passengers, a full panoramic sunroof allows more natural light to enter the cabin and adds to a sense of elegance and openness.
The spacious feel is justified by an exceptionally roomy cabin, which takes full advantage of the vehicle's five-meter length and 2.95-meter wheelbase for abundant second-row legroom, and generous shoulder and hip room. Designers and engineers went to great lengths to package features in a way that prioritized interior space. The front panel of the panoramic sunroof, for example, slides back over the rear panel rather than under it, ensuring maximum rear headroom.
Making full use of the car's interior space, designers and engineers placed more than 25 intelligent stowage spaces throughout the cabin. Cup holders designed to securely hold different-sized tea bottles are just one thoughtful detail implemented to meet the needs of consumers. Reflecting the importance of second-row passengers in China – where the owner of a premium vehicle is often a passenger rather than a driver – the second row has been designed with an emphasis on comfort.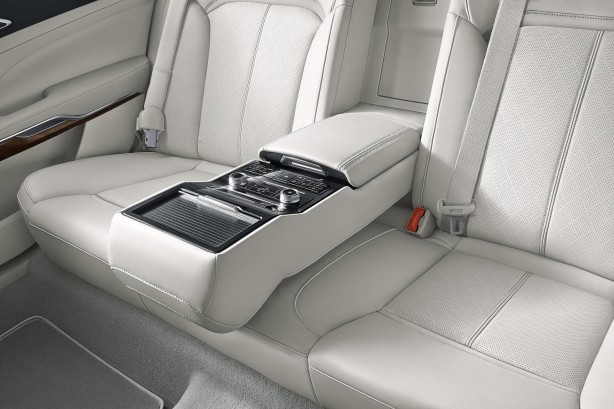 In a first for a Ford vehicle in China, the Taurus has power-reclining rear seats with optional adjustable lumbar support and a massage function, helping both rear passengers arrive refreshed at their destination in business-class comfort. Folding down the center seat cushion – friction-hinged for a premium feel – reveals a rear-seat control panel for air conditioning, seat functions and car media. Folding it up allows the vehicle to comfortably accommodate three rear passengers with a 40/20/40 rear-seat layout.
Materials used throughout the cabin reinforce the feeling of comfort and exceptional, uncompromised quality. Ford designers appointed surfaces with soft but durable materials – such as supple leather for the seats
These materials are accented by bright chrome finishes for an extra layer of detail and a sense of prestige. The careful application of wood elements is said to add natural warmth and strength, and underscores the fine craftsmanship of the interior. Ford has also made extensive use of sound deadening for a hush ride.
Powering the Taurus is Ford's new high-output, twin-turbo 2.7-litre EcoBoost V6 engine, driving either the front or all-wheels. No power output figures have been revealed.
The Ford Taurus will be manufactured at the recently opened Changan Ford Hangzhou Plant for the Chinese market. It has been ruled out for Australia.