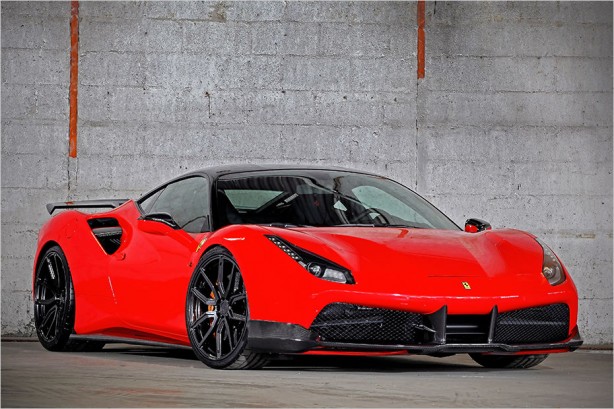 German tuner VOS, which stands for Vision of Speed, has released their latest project – a customised Ferrari 488 GTB.
The stage 3 tuning for the twin-turbo 3.9-litre V8 engine sees its power lifted from the standard 500kW and 760Nm to a fire-breathing 662kW and 910Nm. The extra punch comes from a new engine mapping, a custom air intake and new exhaust system developed in conjunction with Akrapovic.
The massive power boost is conveyed to the outside world through some fancy carbon fibre panels including a front splitter, new side skirts, revised rear diffuser and rear spoiler. The lightweight material also made its way to the mirror caps and side air intakes.
Rolling stock is provided by Spanish wheel manufacturer Loma and comes measured in 21 x 9 inches for the front and ultra wide 21 x 12 for the rear. A set of H&R lowering springs ensures the 488 GTB sits low to the ground for an even more aggressive stance.
VOS also offers less powerful tuning stages including stage 2 with 618kW/860Nm and stage 1 with 559kW/810Nm.