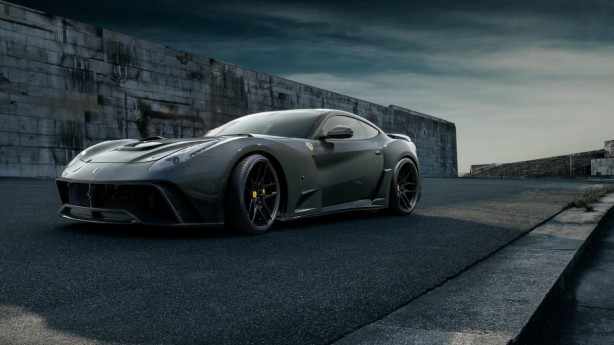 Ferrari tuning specialist Novitec Rosso has had a second attempt at pumping up the Ferrari F12berlinetta and the results are nothing short of mouth-watering.
Setting the Ferrari F12berlinetta apart is a stunning widebody transformation with a full carbon fibre body kit which the tuner claims is not only for looks but also for improved aerodynamic efficiency.
The package consists of wider front and rear bumpers, side skirts, front lip spoiler, rear spoiler and fender flares that are seamlessly joined to the production body. There are also a new bonnet with ventilation slots and a roof spoiler.
The larger wheel arches are now able to accommodate custom-built three-piece Novitec Rosso NF5 NL forged wheels measuring 21-inch in the front and 22-inch on the rear axle. They are wrapped in Pirelli P Zero high-performance tyres sized at 255/30ZR21 for the front and 335/25/ZR22 at the rear.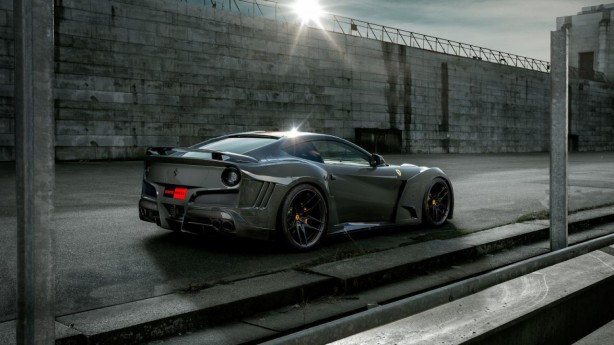 In a true form follows function fashion, a lengthwise slot is integrated into the back of each front fender flare to assist in venting the air heated by the ceramic brakes from the wheel wells as quickly as possible. The rear flares feature large integrated brake cooling ducts that route the relative wind to the deceleration components.
Novitec Rosso has also lowered the ride height of the supercar by up to 40 millimeters with the help of special sport springs. To ease going over speed humps, an optional front lift system can also be fitted which raises the front of the car by 40mm at the touch of a button.
To match its striking looks, the 6.3-litre V12 engine has been given a new ECU tune and sports exhaust to extract another 38 kW and 32 Nm to produce a total output of 582 kW and 722 Nm. This allows the F12berlinetta to rocket from rest to 100km/h in just 3.0 seconds flat, en route to a limited top speed of 350km/h.
Novitec is planning to build just 11 units of this very special F12berlinetta.