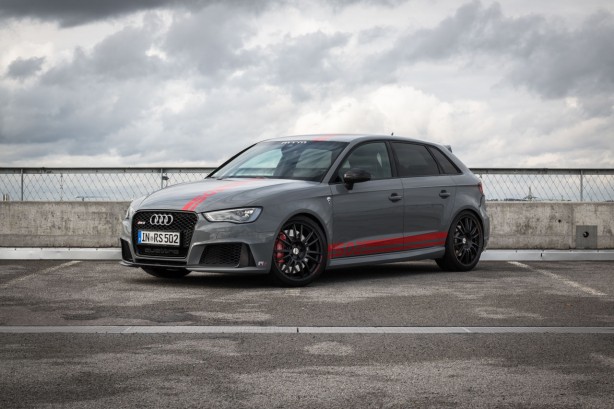 Just when we thought the Audi RS3 couldn't get better, MTM have come around and taken it to the next level.
Dubbed the RS3 R, this five-cylinder 2.5-litre TFSI engine now pumps out 374kW and 650Nm of torque up from the 273kW and 465Nm it comes from factory with. An upgraded turbo and intercooler along with a clever tune are attributed to the large performance increase over stock. The RS 3 still runs the same six-speed S-Tronic transmission propelling the vehicle to 100km/h from rest in just 3.6 seconds, 0.7 second quicker than the stock car. With the right tyres, MTM claim the RS3 will easily reach and exceed 300km/h.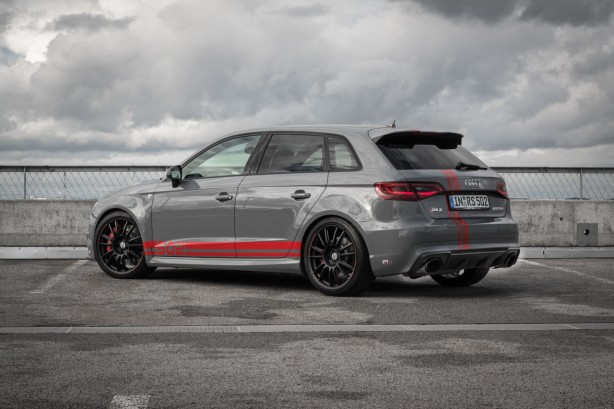 MTM have tweaked the exterior with a new carbon fibre front spoiler and rear diffuser. The car now sits atop a set of 19″ Nardo alloy wheels with 380mm brake discs poking through behind them. Interior has been lightly tweaked with red honeycomb stitching on the door cards, seats, armrest and center console.
The MTM Audi RS3 R will make its official debut at the upcoming Geneva Motor Show.
2016 Audi RS3 pricing and specification