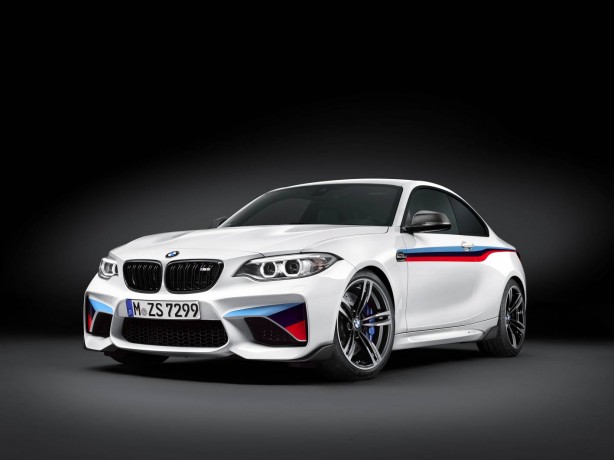 The new BMW M2 can now be specified with a range of original BMW accessories from the M Performance range.
Lending the M2 extra sporting appeal is a set of carbon fibre bodykit which includes a front splitter, side sill attachment, rear diffuser, mirror caps and front grille in high-gloss black with integrated BMW M logo in the BMW M colours red, blue and light blue.
BMW M Performance accent strips which run along the flanks of the car below the crease line, air intake surrounds and rear bumper inject fresh visual momentum.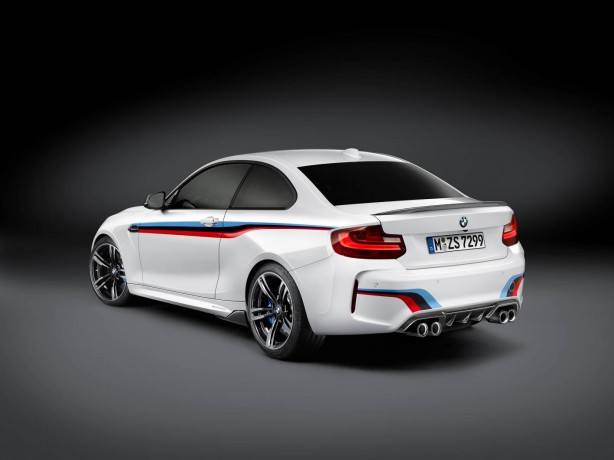 Also available as an option is the M Performance flap silencer system, which makes for more intense perception of the engine sound. Its two operating modes Sport and Track can be set by Bluetooth remote control.
Meanwhile the Track setting further intensifies the volume and character of the exhaust sound, perceptibly enhancing its emotional flair.
The M Performance flap exhaust system further enhances the BMW M2 visually, too, with its high-gloss silencer unit including deep-embossed M Performance logo, tailpipes with a diameter of 80mm and perforated inner pipe. As an alternative there are also carbon fibre tailpipe trim elements available for the M Performance exhaust system with a diameter of 93mm and integrated BMW M logo.
The BMW M2 Coupé can be fitted with the M Performance adjustable suspension for improved handling. This reduces ground clearance by at least 5mm as compared to the standard suspension.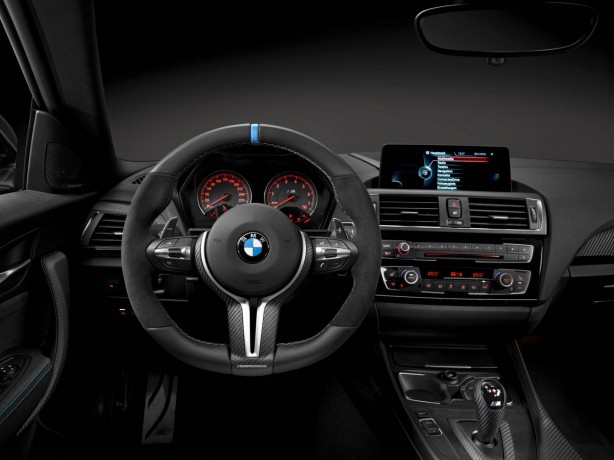 The interior of the BMW M2 Coupé can also be given a definite touch of personal sporty style with the addition of BMW M Performance Parts which include LED door sill cover strips, M Performance floor mats and stainless steel pedal covers.
In addition, BMW offers the M Performance steering wheel with race display and carbon fibre trim as standard. It features an integrated function display in the upper steering wheel rim, dispensing information such as section and lap times, longitudinal and transverse acceleration. The functions are intuitively controlled by menu buttons integrated in the thumb recesses of the steering wheel. In addition to the race display there is also a gear shift indicator: two bi-colour LED light strips on the right and left that run towards each other.
The interior is rounded off with the M Performance Interior Carbon kit, featuring trim elements for the twin-clutch transmission gear selector level, centre console and handbrake handle.