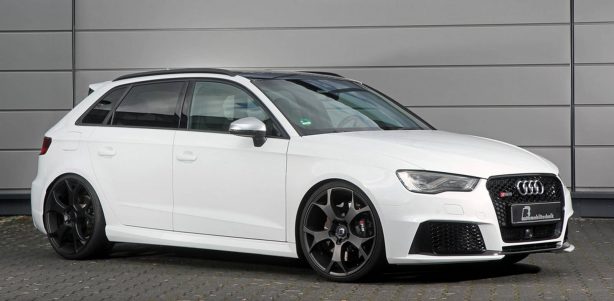 The Audi RS3 Sportback is already a ripper of a hot hatch straight out of the box, but if that's not enough, you may want to get in touch with B&B Automobiltechnik.
The German tuner has recently rolled out its four stage tuning programme for the RS3, which bumps its performance to a brutal 405kW and 750Nm of torque – up from an already potent 270kW and 465Nm.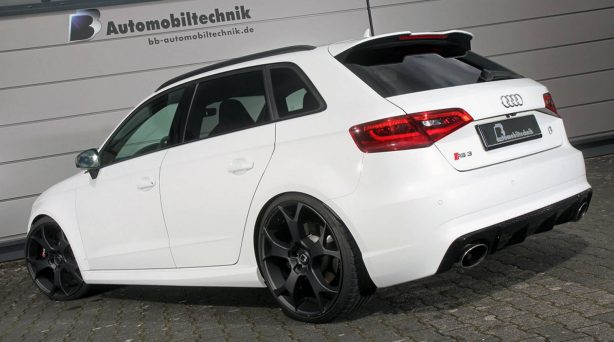 The immense power comes courtesy of a combination of an ECU remap and uprated components developed in-house. The result is a 0-100km/h sprint in a supercar rivaling 3.3 seconds, down a full second from the standard car, while 0-200km/h in done is a neck-snapping 11.8 seconds – 4.3 seconds quicker.
Supercar drivers should also be worried during a drag race as the B&B-tuned RS3 could go beyond 300km/h once the limiter has been removed and with a Stage 4 tuned applied.
While those insane figures certainly give you bragging rights at the pub, customers wanting a more civilised upgrade could opt for the Stage 1 ECU remap, which brings a still significant boost to 316kW and 620Nm of torque for €1,950.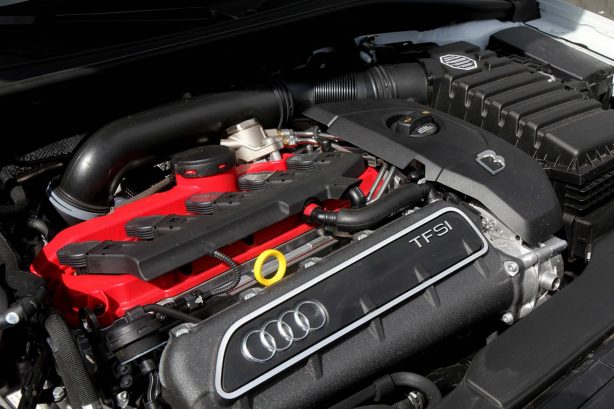 Stage 2 would set you back another €1,000 but brings performance up further to 330kW and 655Nm. This comes courtesy of an optimised air intake system combined with a fuel and ignition remap, and a slight increased to boost pressure of 0.25 bar.
Stepping up to Stage 3 costs an extra €5,000 but guarantees a 357kW and 700Nm output. This is achieved via a remap, free flow sports exhaust system and an in-house developed high performance intercooler.
Then of course, there's the ultimate Stage 4 which sets customers back a total of €17,950 for that supercar slaying performance. The final stage sees the turbocharger replaced and comes with a race exhaust system with free flow metal catalysts. On top of that B&B also installs a high-pressure fuel pump and uprated oil cooler system.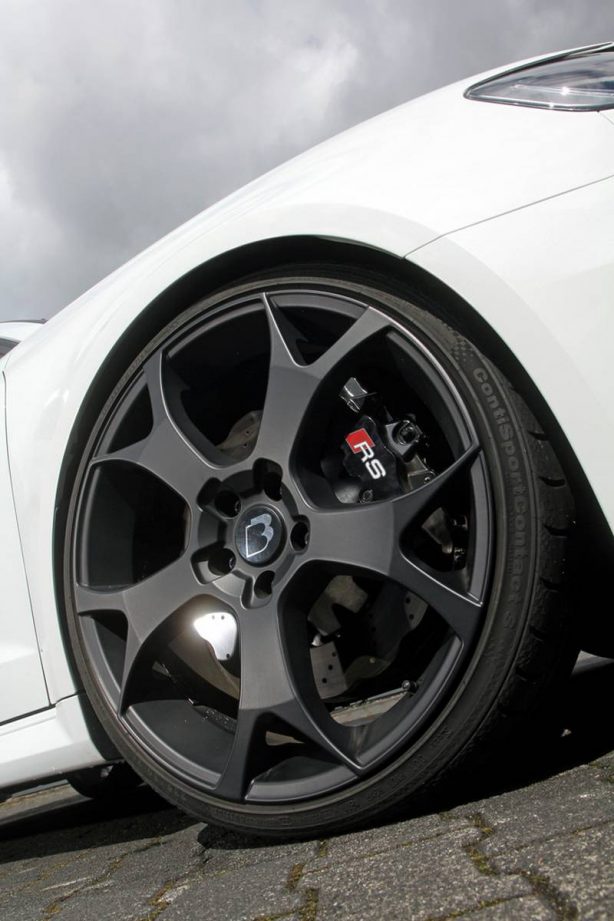 The RS3's speed limiter is also removed for any tuning stage, while the car's 7-speed dual-clutch transmission is amply uprated to handle the increase power.
B&B further offers a comprehensive range of performance parts, such as bespoke downpipe and sports catalyst for the exhaust system (€1,950), a thermostatically controlled oil cooler system (€1,295), a sports spring set for improved handling (€398), an adjustable coilover suspension module (€1,849) and a high-performance braking system (€3,995).
The car you see here also comes with a set of B&B B10-style 20-inch alloy wheels for €3,498.
Source: GT Spirit