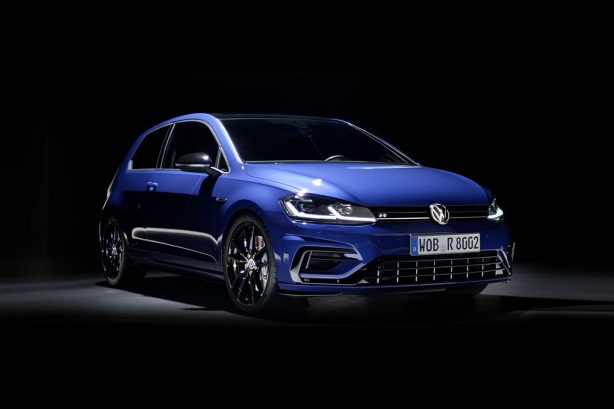 The performance package for Volkswagen's updated Golf R is sporting some serious gear and the numbers to back it up. A 0-100 km/h time of 4.6 seconds and unrestricted top speed of 267 km/h will make the Golf R a blast on the roads and a weapon on the track. In euro spec the new Golf R's 2.0 litre turbocharged 4 cylinder engine will push out 228kW while the US spec retains a modest 217kW. The engine breathes easier with the optional titanium exhaust system from Akrapovič which should also drop a few precious kilo's over the standard system while emitting a good throaty roar on full song.
Large optional 17″ (43.18cm) diameter brakes ensure that any speed gained can also be washed off just as quickly ensuring consistent and reliable braking performance and the adjustable shock absorbers give owners the flexibility to dial in the suspension for differing conditions to get the most out of the Golf R.
As part of the performance package a collection of visual upgrades come standard in the form of a motor sport styled rear diffuser and large rear spoiler.
Volkswagen have yet to confirm or deny the performance package availability for Australian buyer's so there's still hope we'll be seeing some local Golf's sporting the performance package in the future.