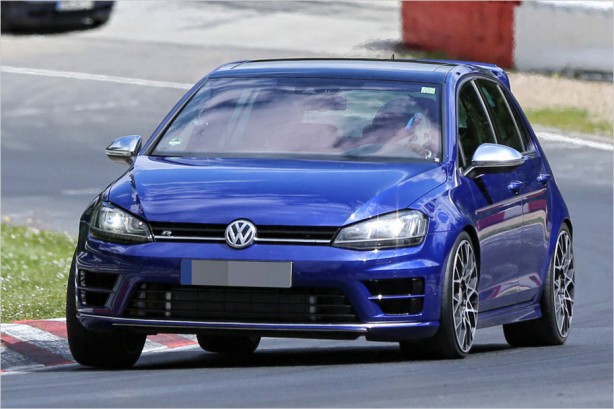 Last month, Volkswagen confirmed the barnstorming Golf R400 will hit production and set to arrive in showrooms in 2016. And these spy photos are proof that the development is well underway.
Caught testing at the Nurburgring circuit and surrounding public roads, the undisguised prototype is believed to be the test mule for the Golf R400. Based on the production Golf R body, the prototype sports pumped up wheel arches wrapped around wider wheels and a rear roof spoiler.
First unveiled at the Shanghai Auto Show earlier this year, the R400 concept packs a 2.0-litre four cylinder turbocharged engine pumping out over 400 horsepower (298kW). When it launches, the Golf R400 will be the first series production vehicle in the VW empire to use the high-output 2.0-litre turbocharged petrol engine, first seen in the Audi TT420 concept.
The uber Golf is also set to be the most powerful turbocharged four-cylinder hatch on the market, eclipsing the mental Mercedes A45 AMG which produces 260kW and 450Nm.
Like the Golf R on which it is based, the power will be channeled to all four wheels via Volkswagen 4MOTION all-wheel drive system.
The production Golf R400 will reported make it world debut at the Frankfurt Motor Show in September 2015 with first customer deliveries scheduled for late next year.