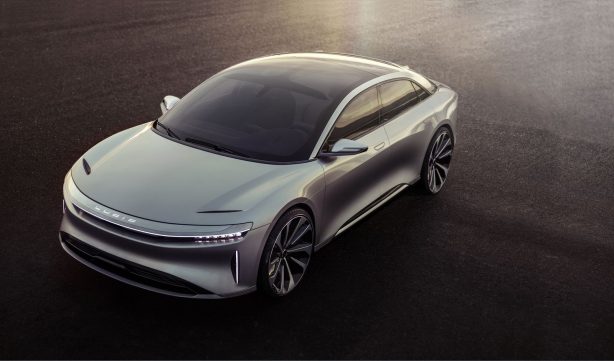 Aiming to take the challenge to Tesla in the luxury electric car sector, Lucid's Air is currently undergoing testing and the results look promising.
Back in April the Air prototype had its first run on the high speed oval testing track at the Transportation Research Center in Ohio where it managed to hit 349km/h. But that figure was with the software restrictions still in place, having made some code adjustments Lucid took their prototype back to set a real top speed run where they managed to top out the Air at 378km/h on the straight.
The test is just that, a test, not indicative of the Air's top speed in full production trim where extra weight will hinder overall performance. Even so, it's a mighty figure from the prototype and the technical goals of the company for the model are shaping up into reality.
The Lucid Air is set to be released in two model variants. The first 255 cars off the production line are dubbed the Launch Edition and come equipped with 1000 horsepower or 746kW and are expected to have a range of 507km. Following the Launch Edition the Air will make do with 298kW and a 386km range. High tech electronic performance doesn't come cheap, the Launch Edition will exceed $100,000 USD while the standard model starts at $60,000 USD.