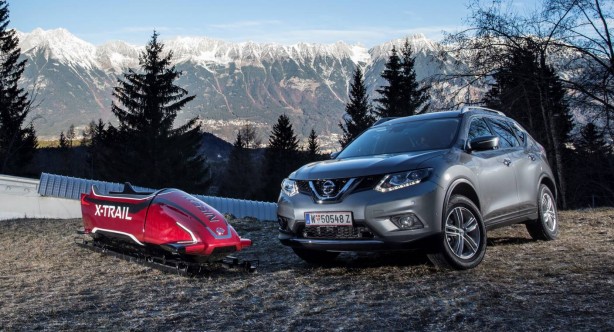 There have been many strange marketing gimmicks tried by automakers in the past, however the latest from Nissan takes the cake. Introducing the Nissan X-Trail Bobsleigh; the worlds first 7-seat bobsled.
The X-Trail Bobsleigh was inspired by the design of the Nissan X-Trail and undertook its inaugural run at the historic Olympic track in Igls, piloted by British Olympic medalist Sean Olsson. Nissan worked with bobsleigh experts to transform a traditional four-man sled into an X-Trail inspired seven-seater capable of reaching 100 km/h and pulling a G-force of 4.5G*.
The bobsleigh mimics the Nissan X-Trail's design, with distinctive front aspect, headlamps and seven-seater option. The seven-seater was developed using sketches and computer-aided design (CAD). The detail on the bobsleigh's nose was crafted to express the X-Trail's V-motion grille and capture the sculpture of the hood character lines.
The table below shows how the two X-Trails compare.
| Feature | X-TRAIL TS 1.6 dCI 4X4 | X-TRAIL Bobsleigh |
| --- | --- | --- |
| Seats | 7 | 7 |
| Height | 1,710mm | 850mm |
| Length | 4,640mm | 4,200mm |
| Gross Weight | 2,140kg | 895kg |
| Kerb Weight | 1,587kg | 310kg |
| Engine Size | 1.6 dCi | N/A |
| 0-100km/h | 11 Seconds | 30 Seconds |
| Top Speed | 186km/h | 105km/h |
| Power | 96kW | 463kW |