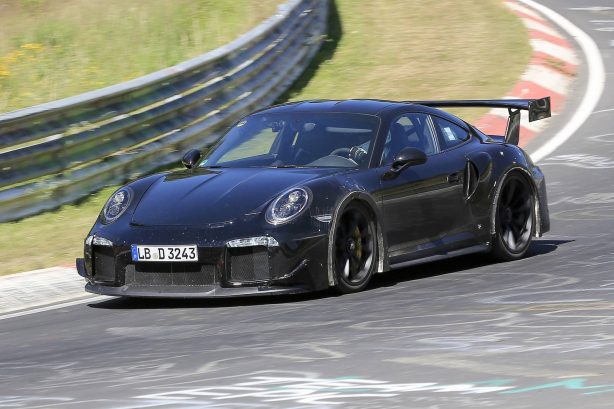 Porsche's hotly anticipated 2018 911 GT2 has been snapped undergoing testing at the Nürburgring in Germany ahead of a suspected debut at the 2016 Paris Motor Show in October.
From the spy photo, it is clear the new GT2 will be wider than the standard 911, due to the crude wheel arch extension on the test mule. We can also glimpse a large rear wing and large front air intakes flanked by prominent winglets on the front bumper.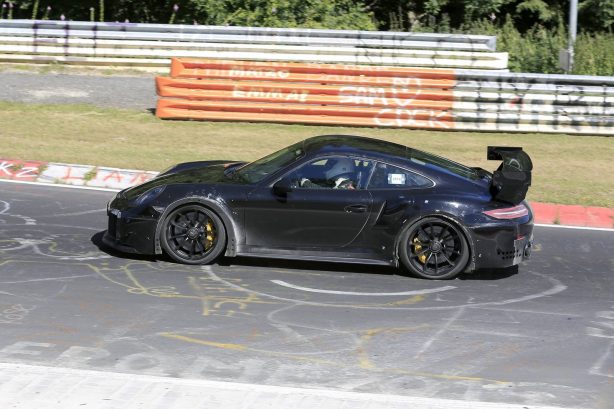 While the rear bumper is mostly covered in camouflage, its two split exhaust outlets are similar to the outgoing 997-generation GT2.
The upcoming GT2 will be powered by Porsche's 3.8-litre twin-turbo flat-six rumoured to produce close to 515kW, along with the brand's rear-axle steering system for added stability. It isn't clear at this stage whether Porsche will offer a six-speed manual or a seven-speed dual-clutch with the 991-generation GT2, though there are speculation the carmaker could make both available.
Have a spy photos of your own? We would like to see them. Email them to: admin@forcegt.com