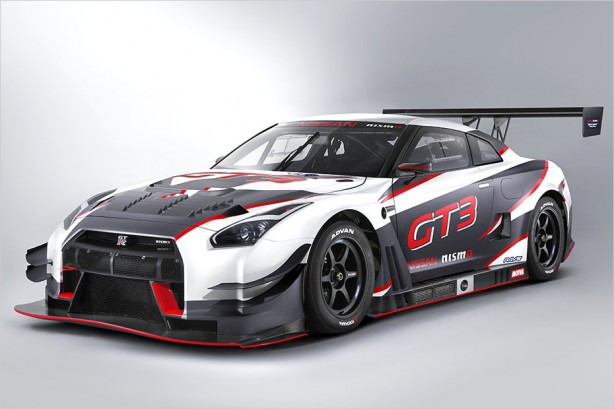 The Nissan GT-R Nismo GT3 has been updated for 2015 and is now available for racing teams competing in GT3 class.
Fresh from victory at the 2015 Blancpain Endurance Series, the Nissan GT-R Nismo GT3 receives further improvement to ensure its competitive edge. After a one-year development in Japan and another year of testing in Europe, the GT-R Nismo GT3 is ready to race with better driveability.
Major rework has been undertaken to improve brake cooling and durability, while larger pistons and rotors as well as a new master cylinder provide stronger stopping performance.
An extensive weight saving program sees the use of carbon fibre for the air intake and various engine component. In addition, few more kilos were trimmed off the redesigned steering column and harnesses. For better weight distribution the alternator has been moved from the engine compartment to the rear axle.
The cockpit of the new GT-R Nismo GT3 offers a revised seating position for easier entry and exit.
Under the bonnet, the GT-R's VR38DETT twin-turbo 3.8-litre V6 unleashes 405kw power and 637Nm of torque. Standard equipment includes a six speed sequential manual gearbox, semi-automatic paddle shift and adjustable steering wheel. As mandated by FIA GT3 rules, the car is rear-wheel-drive.