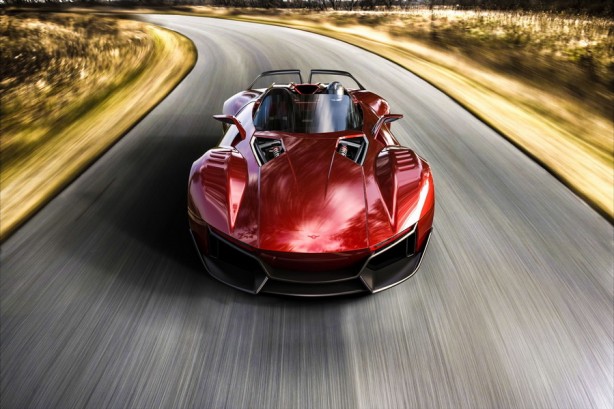 Rezvani the manufacturer of the Beast supercar have added an up-rated version of the vehicle to its lineup, The "Rezvani Beast X". This exclusive model is extremely limited with only 5 units to be sold worldwide.
The new Beast is powered by a highly modified 2.4-litre Honda engine producing 522kW at 7,350 rpm. The engine has been upgraded with forged pistons and values, twin Borg Warner turbochargers and strengthened engine internals. Power is delivered to the rear wheels through a 6-speed manual gearbox and a limited slip differential. Rezvani will also offer the Beast X with a sequential automatic gearbox and paddles at the customers request.
According to Rezvani the Beast X can achieve a 0-96km/h time of just 2.5 seconds making it 0.2 seconds faster than the standard Beast. The supercar has gotten a little chubbier having gained 91kg over the base model, however even with this added weight it still only weighs 839 kg.
Rezvani Motors also mentions that the body is constructed from lightweight carbon fiber and a steel chassis. The brakes have been upgraded to Alcon competition series calipers and pads, while the suspension is made from forged aluminum and offers 10-way adjustment via the high performance dampers from Bilstein.
The Rezvani Beast X is street legal, however it was "designed to be a true worldly competitor for the track". This model is worth $325,000 (USD) and customers will receive free track time as part of the deal.