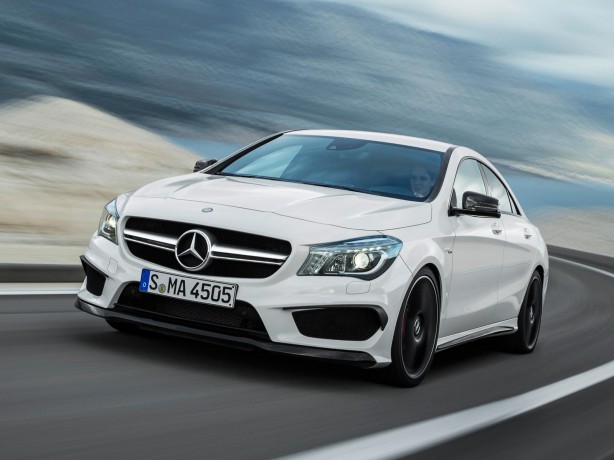 Following recent announcement of power hike for the Mercedes-AMG A45 hot hatch, the company has also confirmed today its CLA AMG and GLA AMG siblings will gain the extra kilowatts.
Like the A45 AMG, both the CLA 45 AMG coupe and GLA 45 AMG crossover will see a power increase of 15kW and 25Nm, lifting the output to 280kW and 475Nm. The potent power is extracted from the  AMG 2.0-litre turbocharged four cylinder engine, officially the most powerful 2.0-litre engine in the world.
Along with the power boost, Mercedes has also tweaked  the seven-speed dual-clutch transmission shared across the three baby AMG models. The new gearbox gets revised ratios and Dynamic Select transmission modes.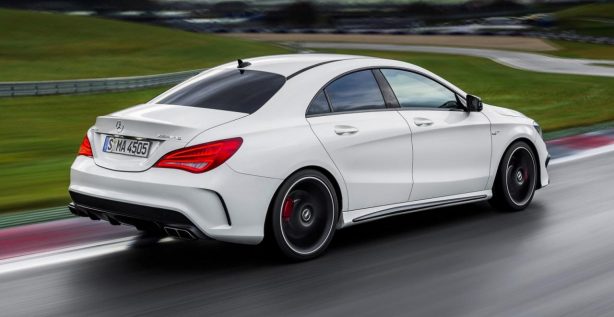 The pumped up drivetrain slashes the 0-100km/h sprint time of the AMG models, with both the CLA 45 AMG 4Matic coupe and GLA 45 AMG crossover 0.4 seconds quicker to 100km/h from a standing start at 4.2 seconds.
Despite the ballistic performance, fuel economy has improved, with the CLA sipping 6.9 litres per 100 kilometres, down from 7.2L, while the GLA is now rated at 7.4L/100km, an improvement of 0.2L.
The updated CLA 45 AMG and GLA 45 AMG will debut at the Frankfurt Motor Show this September, along with the revised A45 AMG. All three compact AMG variants are expected to arrive in Australia early next year.