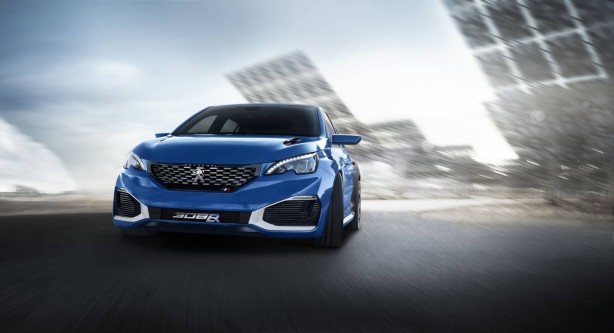 Peugeot has unveiled a new concept version of the 308 hatchback. Scheduled for debut later this month at the 2015 Auto Shanghai, the hot hatch packs a combined power output of 373kW/500bhp and all-wheel drive.
Badged the Peugeot 308 R Hybrid, the concept is powered by a plug-in powertrain with four-wheel drive that develops 373kW/500hp. The unit combines three sources of power, each capable of moving the vehicle independently of the others. They are a four-cylinder 1.6-litre turbocharged petrol engine, plus two electric motors – each with power of 85kW/115hp – mounted one on each axle. The front one is linked to the six-speed gearbox.
The result is a family hatchback which is capable of supercar performance. The PEUGEOT 308 R HYbrid can hit 100km/h from a standing start in only 4.0 seconds, with top speed electronically limited to 250km/h.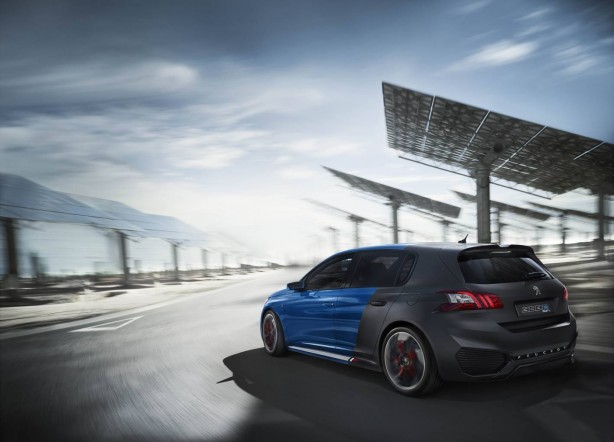 The Peugeot 308 R Hybrid is equipped with four driving modes:
Hot Lap mode is the most powerful, harnessing the full potential from the three power sources to reach a total of 500hp and maximum torque of 730Nm.
Track mode delivers 400hp and 530Nm, mainly from the petrol engine and the rear electric motor. The front electric motor serves as an additional booster when accelerating.
Road mode is specially designed for road use with power of 300hp and torque of 400Nm. The petrol engine delivers its full potential, while the rear electric motor helps during accelerations. The front electric motor is not used in this mode.
ZEV makes priority use of the rear electric motor. The front electric motor comes into play, depending on the pressure applied on the accelerator pedal.