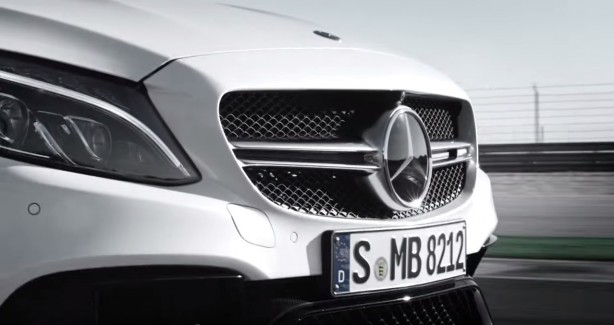 Mercedes-Benz has dropped the first official hint of the highly anticipated C 63 AMG Coupe today with the release of a new teaser video.
Set to make its first public appearance at the Frankfurt Motor Show next month, the new C 63 AMG Coupe will be officially revealed tomorrow.
Behind the flared wheel arches and beefed up bumpers is a drivetrain similar to its AMG C 63 sedan and wagon sibling. This means a new 4.0-litre twin-turbo V8, which transmits its power through a seven-speed automatic and a limited slip differential to the rear wheels. As with the sedan version, the C 63 Coupé will produce 350 kW of power and 650 Nm of torque, while the more powerful C 63 S will pump out 375 kW and 700 Nm.
The coupe will get a slightly different suspension tune to the sedan, with focus on delivering sharper handling. Expect a zero-to-100-km/h time of just four seconds, en route to an electronically limited 250 km/h top speed.
Like the current model, the new Mercedes-AMG C63 Coupe will head for the premium high performance coupe podium fighting against the BMW M4, Lexus RC F and Audi RS 5.