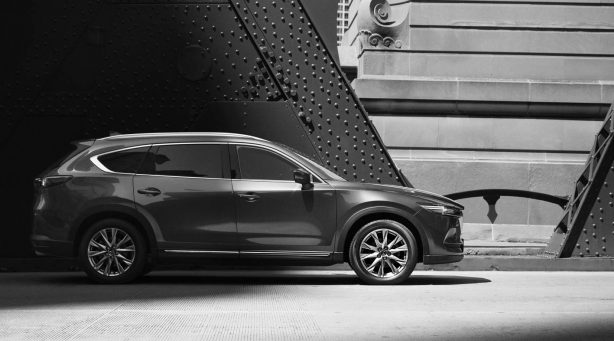 Mazda has released first exterior image of its CX-8 crossover, the latest addition to the company's fast expanding SUV line-up. Mazda has previously showcased the CX-8's interior with a photo released back in April but the latest photo is the first time the crossover's exterior is revealed.
As expected, the CX-8's design is a cross between the larger CX-9 and the smaller CX-5, adopting the former's long side profile and rear styling and merging it with the latter's front fascia. Like the rest of Mazda's current offerings, the CX-8 is a good looking SUV.
Designed to appeal to families who need a third row seat but find the CX-9 a little too large, the CX-8 can be configured in either 2-2-2 or 2-3-2, with the former featuring "captain chairs" for the second row seat. It offers seating for six or seven passengers, depending on the configuration.
Measuring 4,900 mm long, 1,840 mm wide and 1,730 mm high, the CX-8 is about as wide as a CX-5. Its wheelbase of 2,930 mm is identical to that of the CX-9 but its width is about 120mm narrower and its length is 162mm shorter.
The Mazda CX-8 is unfortunately a Japanese domestic market-only model, created to better fit Japanese roads and tight urban spaces. According to Mazda, the CX-8 will be the flagship of its SUV line-up in Japan, as the CX-9 isn't sold there.
Not all hope is lost however, as according to Mazda Australia spokesman Tony Mee, the business case for the CX-8 in Australia is worth evaluating once the model becomes global.
Currently, no other car maker in the non-premium segment offers a sportier or more compact alternative to their large SUV. The CX-8 could mimic the success of models like BMW X4 and Mercedes GLC Coupe, which are respectively sportier derivatives of the BMW X3 and Mercedes GLC in the premium space. The three-row CX-8 could also be Mazda's answer to the latest generation Honda CR-V, which now can be had with 7 seats.
Powering the CX-8 is the company's familiar SKYACTIV-D 2.2-litre turbo diesel engine, mated to a six-speed automatic transmission.