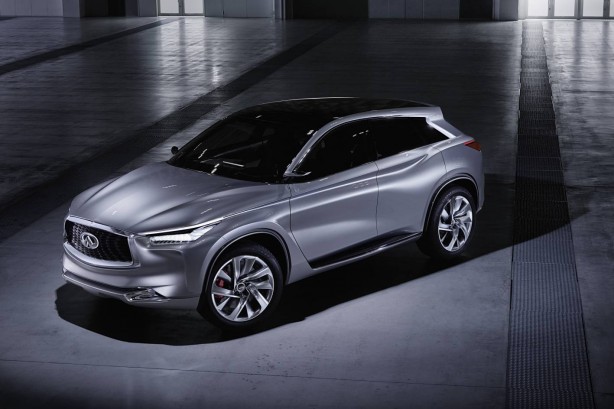 Infiniti has unveiled the QX Sport Inspiration at the Beijing Motor Show today, hinting at the brand's future mid-sized SUV to rival the likes of BMW X3, Audi Q5 and Lexus NX.
Expressing the Japanese premium marque's "Powerful Elegance" design language, the concept stands out in class with its taut lines, muscular haunches, high visual centre of gravity, long bonnet and raked, coupe-like silhouette.
Serving as markers for future Infiniti QX models, the concept features the brand's signature double-arch grille, focused "human eye" headlamps, "crescent-cut" C-pillar and masculine, fluid body sculpting.
"The QX Sport Inspiration is a statement of intent from Infiniti, showcasing a daring design philosophy and a demonstration of our capabilities in the mid-size SUV segment," said Roland Krueger, President of Infiniti.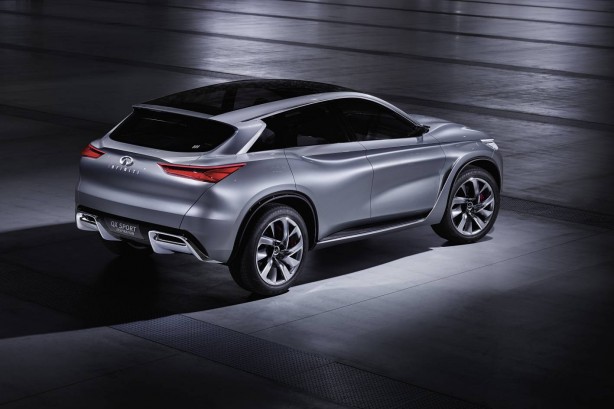 The exterior of the QX Sport Inspiration takes the approach of forms follow function. For example, located above the sills on both sides of the car is a recessed step. As well as aiding ingress and egress for driver and passengers, this step – finished in gloss-black – reduces the apparent depth of the bodywork and raises the Concept's visual centre of gravity for a"go anywhere" SUV-like appearance.
Large vertical "blade-shaped" vents are integrated into the front fender, highlighting the width of the Concept while also admitting cooling air to the front brakes. Another pair of vertical vents, located behind the bold front wheel arches, reference those found on previous Infiniti concepts and also serve an aerodynamic purpose, extracting turbulent, drag-inducing air from the front wheel arches.
Another design feature artfully blending form and function is the rear diffuser, which aids aerodynamic efficiency and is careful integrated with the exhaust outlets.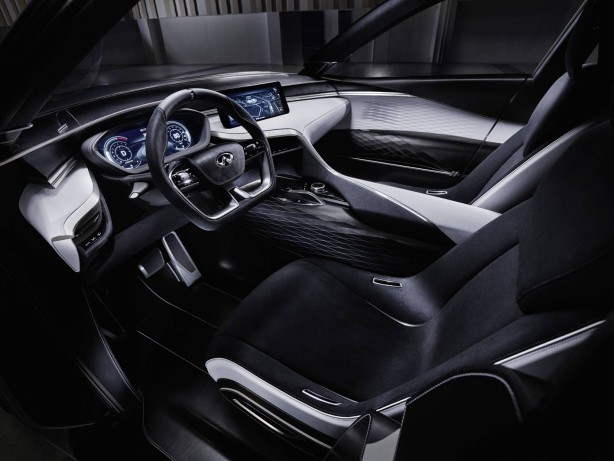 The flowing theme continues on to the interior of the QX Sport Inspiration, which follows Infiniti's "driver-centric, passenger-minded" approach to cabin architecture. The cabin's colour palette – predominantly black and white with flashes of the hide's natural tan colour – is said to be harmoniously blended through careful use of line, form, and texture.
The QX Sport Inspiration is expected to be the mould for Infiniti's upcoming mid-size five-seat SUV set to be positioned between the larger QX70 and smaller QX30 crossovers.