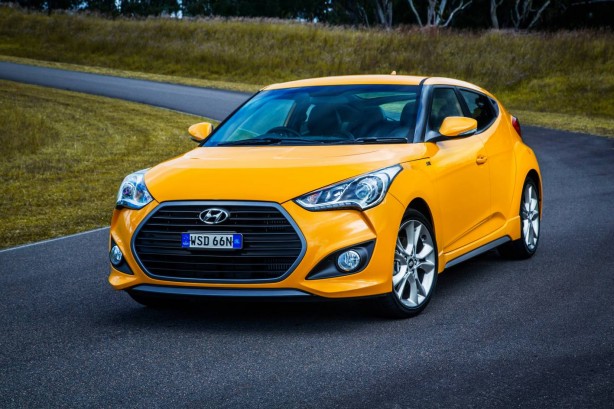 Hyundai's unique three-door Veloster coupe-hatch has been substantially upgraded, with a new 7-speed double-clutch transmission offered on SR Turbo variants.
The Veloster Series II brings new features, minor tweaks both inside and out, and new exterior colours, including a striking matte-blue finish. The Veloster now four-tier range also introduces a new entry level, sub-$30,000 Veloster SR Turbo.
The new facelift gets distinctive grey grille surround (on both SR Turbo variants) and new-style 18-inch alloy wheels. Inside, there is a new instrument cluster (SR Turbo variants), coloured seatbelts (SR Turbo and SR Turbo +, from April 2015 production) and colour-stitched steering wheels (SR Turbo variants).
Hyundai Motor Company Australia's highly respected local chassis development team is once again tasked with fine tuning the Veloster's chassis for even better handling.
The changes include wider tyres (now 225/40 R18, up from 215/40 R18), significant spring and stabiliser bar changes, and new Hydraulic Rebound Stops (HRS) in the front dampers.
"The bigger tyres on Veloster Series II meant we needed to address the subtle increase in the car's unsprung weight," said General Manager Product Engineering Hee Loong Wong.
"We reduced the front stabiliser bar diameter across the Veloster Series II range to allow for more independent front-wheel movement. In the naturally aspirated Veloster and Veloster +, the bar was reduced from 24mm to 21mm. In Veloster SR Turbo and SR Turbo +, it was reduced from 24mm to 22mm.
"We were able to use a smaller-diameter stabiliser bar in the naturally aspirated Veloster and Veloster + because that engine is marginally lighter than the Turbo, with subsequent lower impact loads and reduced roll tendency."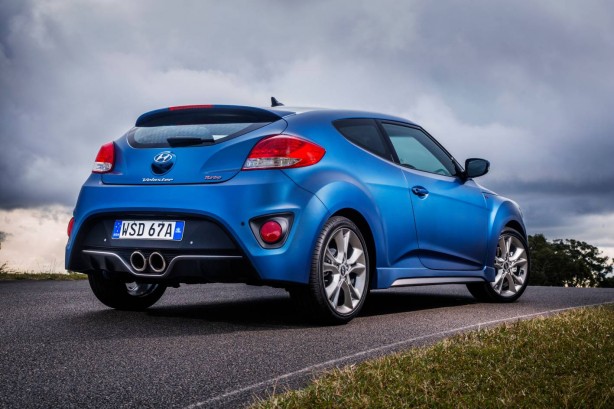 Importantly, Veloster Series II also switches from the previous Veloster's 16-bit MDPS (Motor Driven Power Steering) system to Hyundai's latest-tech 32-bit system. Additionally, Veloster Series II SR Turbo + also adopts Hyundai's driver-adjustable three-mode Flex Steer system.
The Veloster Series II is powered by Hyundai's direct-injection 1.6-litre Gamma engine, in naturally aspirated or turbocharged form. Power and torque figures for both engine types are unchanged. The naturally-aspirated engine offers 103kW at 6300rpm and 167Nm at 4850rpm. In Veloster Series II, SR Turbo and SR Turbo + power and torque are 150kW at 6000rpm and 265Nm at 1750-4500rpm respectively.
Both powerplants are matched with either a six-speed manual gearbox or double-clutch transmission (DCT) with six ratios for the NA engine and seven ratios for the turbo.
2016 Hyundai Veloster pricing
Engine

Transmission

Veloster

Veloster +

Veloster SR

Veloster
SR +

1.6 GDi
6 Speed Manual

$24,490

$29,490

1.6 GDi
6 Speed DCT

$26,990

$31,990

–

–

1.6 Turbo GDi
6 Speed Manual

–

–

$29,990

$33,990

1.6 Turbo GDi
7 Speed DCT

–

–

$32,490

$36,490