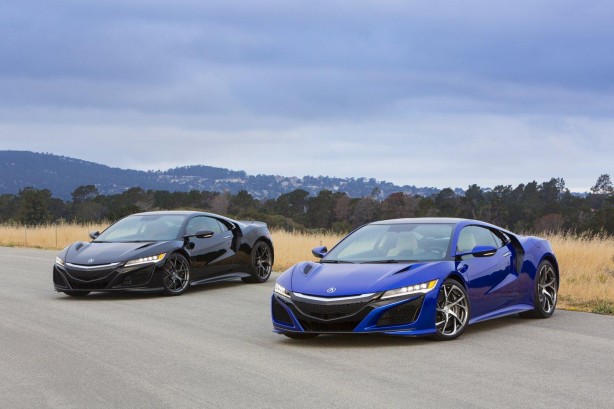 On display at the Quail Motorsports Gathering near Pebble Beach last weekend was a trio of all-new Honda NSX models (Acura NSX in North America), two of which were shown for the first time.
Unveiled earlier this year the 2015 Honda NSX packs a twin-turbocharged 3.5-litre 75 degrees V6 engine with race-inspired compact valve train and dry sump lubrication.
The new powerplant is paired with a 9-speed dual clutch transmission (DCT) and three-electric motor Sport Hybrid system — two individually driving each front wheel and one in the back supplementing the engine, which powers the rear wheels.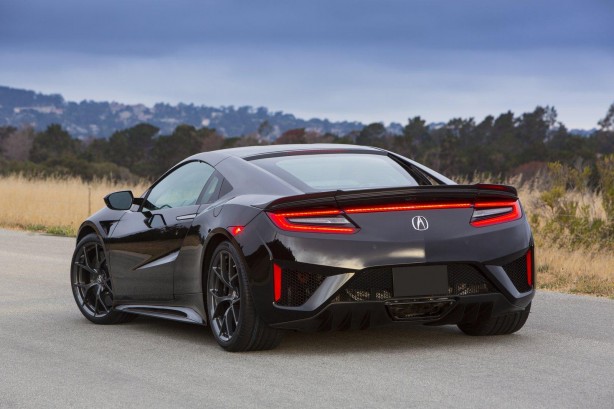 As the first build-to-order vehicle for Honda, the all-new NSX will feature an extensive array of factory-installed customisable options. The following features and options were displayed at the prestigious event:
Exterior Features and Options

Exterior Color

Valencia Red Pearl

Nouvelle Blue Pearl

Berlina Black

Interior Color

Red

Orchid

Saddle

Exterior Package

n/a

Carbon Exterior Package: carbon fiber front spoiler, side sills, rear diffuser and exhaust finisher

Carbon Exterior Package: carbon fiber front spoiler, side sills, rear diffuser and exhaust finisher

Engine Cover

n/a

NSX Carbon Engine Cover: carbon fiber front, side and rear engine covers

NSX Carbon Engine Cover: carbon fiber front, side and rear engine covers

Roof

n/a

Carbon Roof

Carbon Roof

Brakes

Black Brake Calipers with Ceramic Rotors

Silver Brake Calipers with Ceramic Rotors

Black Brake Calipers with Ceramic Rotors

Wheels

NSX Signature Y-Spoke Wheels

NSX Exclusive Interwoven Wheels

NSX Signature Y-Spoke Wheels

Rear Spoiler

Body-Colored Rear Decklid

Body-Colored Rear Decklid

Carbon Rear Decklid Spoiler

Interior Features and Options

Interior Package

n/a

Interior Carbon Sports Package: carbon fiber meter visor, steering garnish, aluminum foot rest and sport pedals

Interior Carbon Sports Package: carbon fiber meter visor, steering garnish, aluminum foot rest and sport pedals

Seats

Leather and Alcantara Power Sports Seats

Leather and Alcantara Power Sports Seats

Leather and Alcantara Power Sports Seats

Headliner

Black Alcantara Headliner

Black Alcantara Headliner

Black Alcantara Headliner

Technology Package

ELS Studio Audio and Technology Package: 9-speaker ELS Studio®Premium Audio, Acura Navigation System, SiriusXM® Satellite Radio and AcuraLink®, front and rear parking sensors

ELS Studio Audio and Technology Package: 9-speaker ELS Studio®Premium Audio, Acura Navigation System, SiriusXM® Satellite Radio and AcuraLink®, front and rear parking sensors

ELS Studio Audio and Technology Package: 9-speaker ELS Studio® Premium Audio, Acura Navigation System, SiriusXM®  Satellite Radio and AcuraLink®, front and rear parking sensors