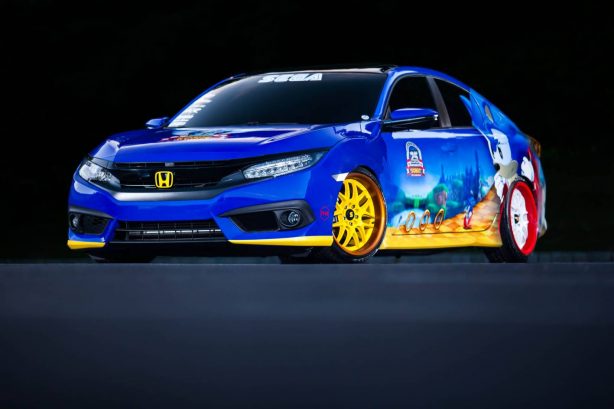 Honda America has collaborated with video game company SEGA to create a one-of-a-kind "Sonic the Hedgehog" Honda Civic, as the beloved game commemorates its 25th year.
The custom Sonic Civic, based on a turbocharged 2016 Civic sedan, made its debut during Comic-Con at SEGA's sold-out Sonic the Hedgehog 25th Anniversary event at the House of Blues in San Diego late last week.
"What better way to showcase the incredibly sporty performance capability of the 10th generation Civic than by pairing it with gaming industry's ultimate athlete – Sonic the Hedgehog," said James Jenkins, Public Relations Manager for the Honda Division, North America.
"As the fan favorite game and character celebrates his 25th anniversary on the scene, we hope that all Sonic fans – those who remember playing years ago and those who continue playing today – rejoice in his all-new ride, as much as we enjoyed creating it."
The Sonic Civic embodies the spirit of the "Sonic The Hedgehog" classic video game, whose main character Sonic, and Sonic's world, is featured on and throughout the modified Civic. Fox Marketing Cars, based in York, Pennsylvania, led the design and customisation.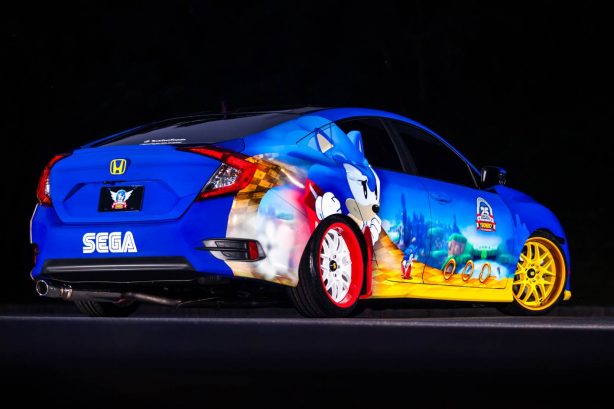 The Sonic Civic customisation includes:
Custom wheels and tyres representing Sonic's infamous red shoes and gold rings featured in the game.
Custom exterior including a one-of-a-kind vinyl Sonic the Hedgehog design and bespoke paint scheme – a Sonic Black Grill, BASF R-M Candy Sonic Blue painted exterior with custom Sonic Yellow throughout including a Sonic Yellow Honda logo.
Custom interior features Sonic the Hedgehog front and rear seats with Katzkin Blue Leather and custom "Sonic the Hedgehog" 25th Anniversary embroidered logos.
Custom boot design with Rockford Fosgate audio-visual system featuring two 500-watt T1S2 10-inch subwoofers, two 500-watt TM400 400-watt amplifiers, and a floor-mounted flip-up/down 32-inch television for video game fans to play classic "Sonic the Hedgehog" games.
2016 Honda Civic Price and Specification