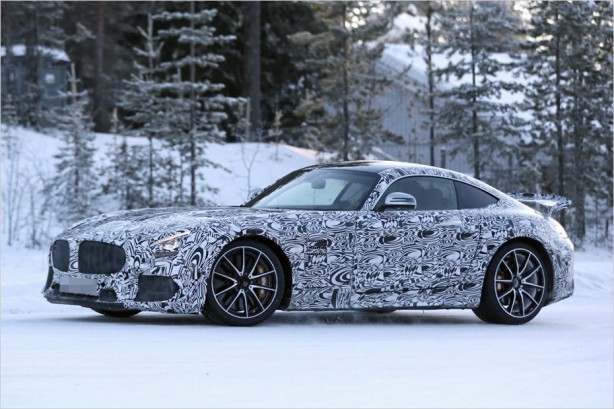 First there's the Mercedes-AMG GT, then came the more powerful Mercedes-AMG GT S. Saving the best for last, the folks over at Affalterbach is now readying the most hardcore version – the Mercedes-AMG GT R.
Spotted undergoing winter testing in Germany, the AMG GT-R can be seen with larger front air intakes and a rear spoiler.
While Nissan might have a thing or two to say about the name, the AMG GT R will, of course, have an even higher output version of the 4.0-litre twin-turbo V8 engine. It's also expected to pack larger brakes, sticker tyres and a new exhaust worthy of serious track work.
Rumours also have it that the AMG GT R will feature a four-wheel-steering system and adjustable spool-valve dampers to tighten handling even further.
Befitting its flagship status, the AMG GT R will also have some sort of active aerodynamic elements. Expect the sprint from rest to 100km/h in the low 3 seconds, rivaling the likes of Porsche 911 GT3 and Jaguar F-Type SVR.