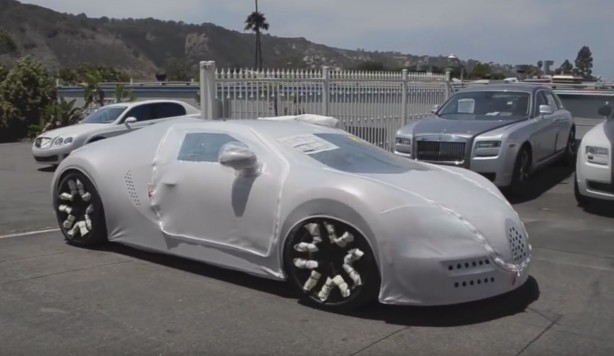 Most of us will probably never be able to afford a supercar and hence not be able to experience the delivery process first hand. Thankfully, Spencer Berke – an employee at Symbolic Motor Car Company – has recorded the unwrapping of a brand new Bugatti Veyron Vitesse.
The supercar is wrapped top to bottom to protect it from scratches. However, the drivers side door is left unwrapped and a translucent material covers the windscreen to allow the vehicle to be driven off the trailer. Venting holes are also present allowing air to enter the intakes. Bugatti protects each wheel by wrapping each spoke in pieces of cloth.
The customer ordered the Vitesse with a red and black paint scheme. The level of detail is amazing. The swirls flow beautifully with the smooth lines and continue to the interior where it covers the door cards; even the seat and steering wheel stitches has been color matched to the rest of the car.
According to Spencer, the delivery and unwrapping takes close to 2 hours to complete and follows onto a 12 hour inspection to ensure the car is in perfect condition, Nothing but the best for those that can afford its near $3 million price tag.
Enjoy the video below