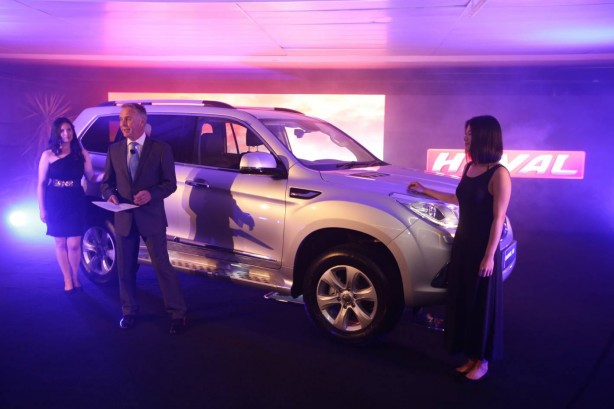 Australia's newest automotive brand, HAVAL has set up shop in Australia with three premium SUVs – the H2, H8 and H9.
With its head quarters in Melbourne, the Chinese brand's first four Australian dealers are Berwick HAVAL, King's HAVAL in Geelong, Lansvale HAVAL in Sydney and Autostrada HAVAL in Perth.
"We are very excited to be launching our range of premium SUVs into Australia," said HAVAL Motors Australia Managing Director, Parker Shi.
"Australia is a country where SUVs sales have doubled in the past five years. We are confident our combination of quality product and outstanding value for money will prove popular with Australian customers," Shi said.
He said HAVAL was working to have 10 dealers by the end of 2015 and at least 25 by the end of 2016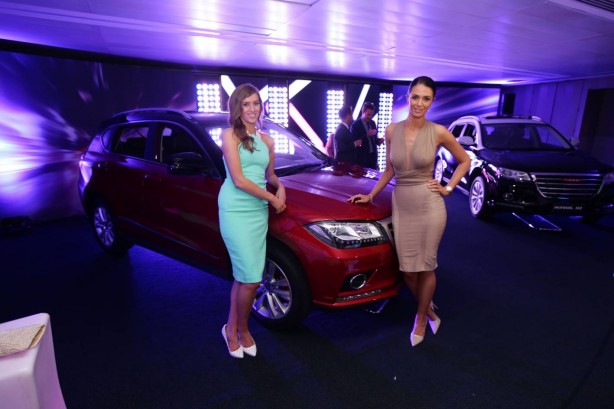 According to the company's press release, since the launch of its first SUV in China in 2002, HAVAL has established itself as the premier SUV manufacturer in the world's biggest automobile market. It has been the top-selling SUV brand in China for 13 consecutive years. Dedicated to producing only premium SUVS, the company says it is committed to becoming the world's leading specialist SUV brand, as evidenced by the recent opening of a $4 billion state-of-the-art R&D centre in Baoding. The company has manufacturing plants at Tianjin and Xushui. Combined, they are capable of producing 1.8 million SUVs each year.
"When other manufacturers are spreading their talents across a wide range of vehicles and platforms, HAVAL is focusing and specialising. Specialising in the fastest growing automotive sector in the world," said Shi.
"In 2013, we sold our 1 millionth vehicle. In 2014 we posted a 23 per cent increase in sales over 2013 and made the top 10 for the list of global SUV sales for the first time, ahead of brands such as BMW, Land Rover, Mitsubishi and Mercedes Benz."
Chief Marketing Officer Tim Smith said HAVAL was the first major OEM to enter the Australian market in more than 10 years.
"We are committed to providing new levels of customer service with a range of vehicles that offer outstanding value for money. Every HAVAL comes with a 5 year,100,000km warranty, 5 years of roadside assistance and 5 year HAVAL Service Price Guarantee.
"Every HAVAL is designed to achieve 5 star ANCAP rating and we are actively working with ANCAP to realise this result in Australia," said Smith.
The range and pricing (plus on-road costs):
HAVAL H2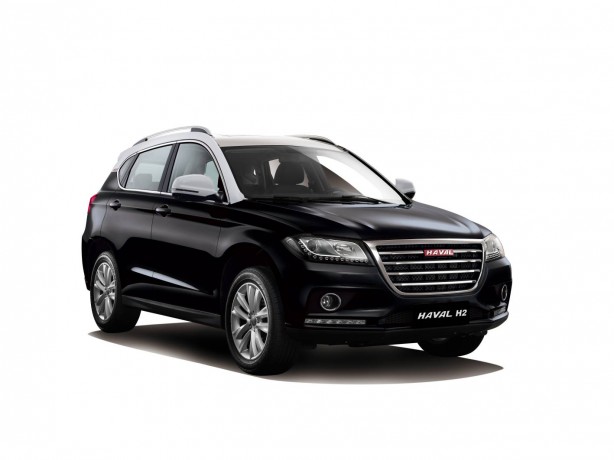 The range begins with the Mitsubishi ASX-sized HAVAL H2 with price ranging from $26,490 to $30,990 plus on-road costs.
An urban SUV, the H2 can be customised with an assortment of two-tone paint and two-tone interior finishes.
A sales star in its home country, the HAVAL H2 boasts European styling that is fashionable, sporty and highly appealing.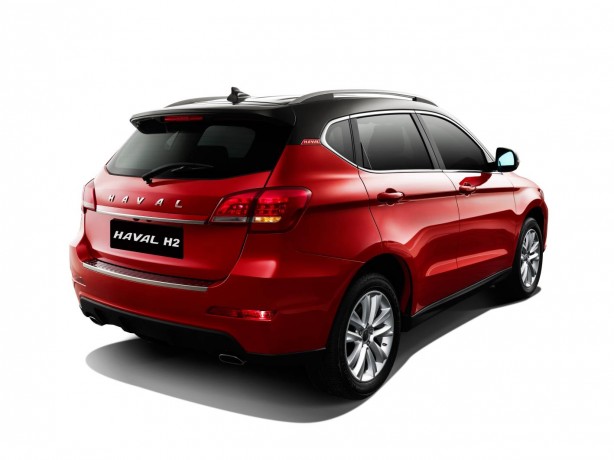 The H2 features a large, U-shape grille that instantly identifies it as a member of the HAVAL premium SUV family.
The phoenix-shaped headlamp includes 15 LED crystals – 10 for daytime running lights and five for the high visibility turn signal.
The blade-type dual waistlines accentuate the flowing lines of the smallest member of the HAVAL line-up and deliver a streamlined side profile.
A variety of interior choices – including three two-tone options – are available in cloth or Comfort-Tek premium eco-leather.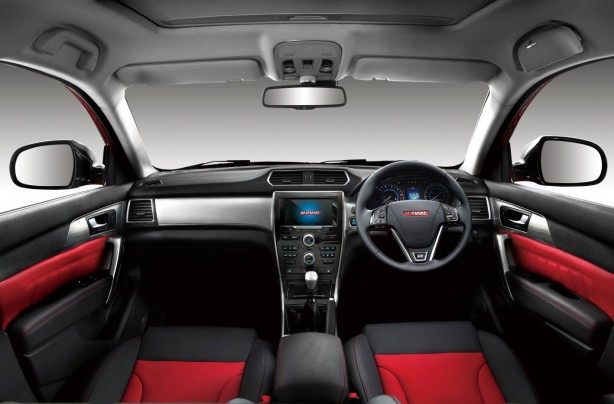 The long list of standard creature comforts include keyless entry and start, cruise control, Bluetooth with audio streaming, reversing camera with rear parking sensors and an eight inch touch screen.
Under the bonnet rests a turbocharged 1.5-litre petrol engine with dual VVT producing 110 kW of power and 210 Nm of torque, matched to a six-speed manual or six-speed automatic transmission. Front- and all-wheel-drive options are offered.
Standard safety features include six airbags, ESP, active headrests and a tyre pressure monitoring system.
H2 Premium
2WD
6-speed manual
$26,490
2WD
6-speed auto
$28,490
AWD
6-speed manual
$28,990
H2 LUX
2WD
6-speed manual
$28,490
2WD
6-speed auto
$30,490
AWD
6-speed manual
$30,990
Options:
Two-tone paint/two-tone seats
$750
HAVAL H8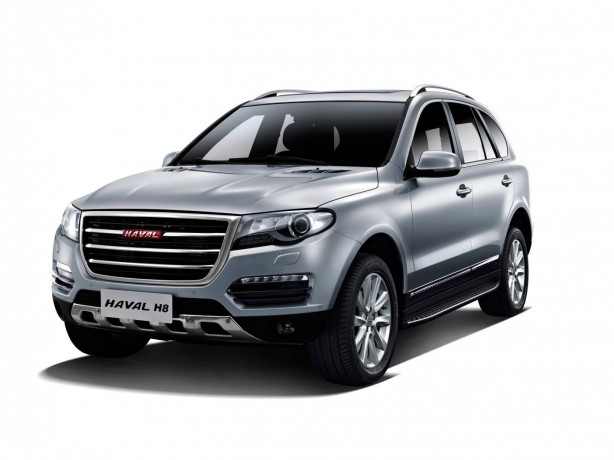 The larger H8 is described as HAVAL's premium large urban SUV and priced between $41,990 and $48,990 plus on-road costs. With turbocharged performance and high levels of interior comfort, it is said to have outstanding refinement levels. The company says the H8 is destined to become a favourite with Australian families.
Boasting a sophisticated dual wishbone independent front suspension and multi-link independent rear suspension, the H8 is said to deliver a smooth, comfortable ride on all surfaces.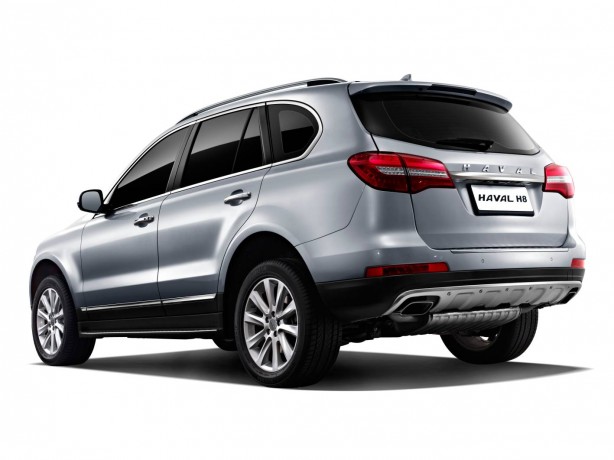 The 2.0-litre direct injection turbocharged engine drives the rear wheels by default through a six-speed ZF automatic transmission, while a Borg-Warner transfer case automatically detects wheel slip and can direct the drive to the front wheels in a 50:50 split.
Standard features include seats covered in Australian-sourced leather, sunroof, alloy wheels, Xenon headlamps, satellite navigation, three-zone air conditioning and parking sensors front and rear.

Safety features of the 4.8m long H8 include six airbags, ESP, Hill Descent Control, driver condition monitoring and reversing camera.
Optional features on the range-topping LUX model include heated, ventilated and massaging seats, adaptive front headlamps and an electronic tailgate.
H8 Premium
2WD
6-speed auto
$41,990
AWD
6-speed auto
$44,490
H8 LUX
AWD
6-speed auto
$48,990
H8 options:
Rear DVD
$1,500
Heated/vented/massage seats (Premium)
$1,000
HAVAL H9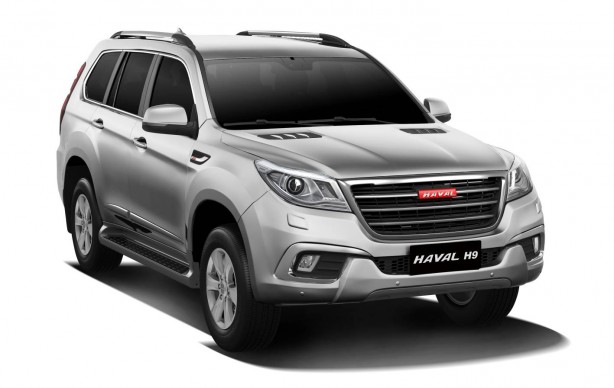 The Toyota Landcruiser Prado-challenging H9 tops out the HAVAL range, with prices ranging from $46,490 to $50,990. With its tough construction, seven seats, rugged ladder frame chassis and dual range powertrain the H9 is said to be perfect for off-road adventure-loving families.
The H9 uses the same 2.0-litre turbocharged engine found in the H8, which produces 160 kW and 324 Nm. In addition to the ZF six-speed transmission, the H9 comes complete with a dual range transfer case.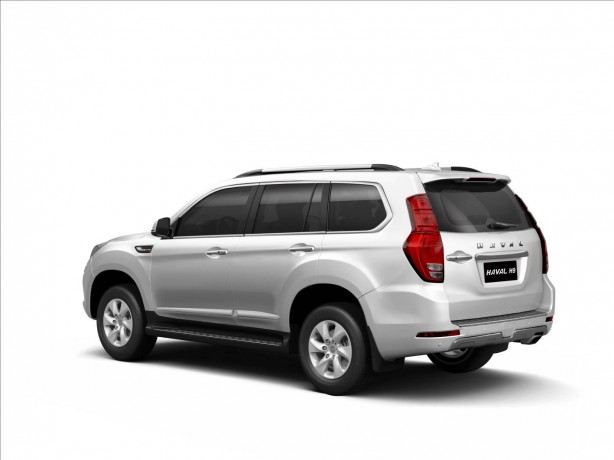 The LUX model boasts an electronic all terrain control system, with a Borg Warner torque on demand intelligent 4WD system, including a 4L mode for maximum traction.
The H9 also comes with AFS smart lighting, which automatically curves around corners and adjusts the Xenon headlamps up and down when ascending or descending.
With 1457 litres of carrying capacity and seven seats, the company says the H9 will set a new standard for premium family SUVs in Australia.
H9 Premium
4WD
6-speed auto
$46,490
H9 LUX
4WD
6-speed auto
$50,990
H9 options
Rear DVD
$1,500