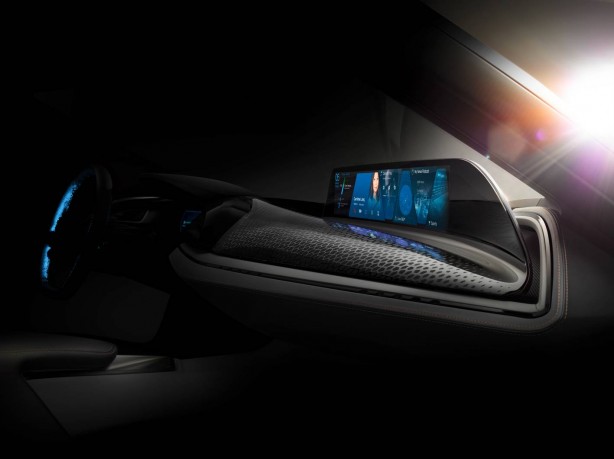 BMW has teased its AirTouch contactless touchscreen ahead of its debut at the Consumer Electronics Show, CES, in Las Vegas.
The interior of the Vision Car will demonstrate what the user interface of the future might look like.
According to the carmaker, the rapid advance of networking between driver, vehicle and environment is becoming increasingly intensive and is facilitating new services.
One example of new technologies in seamlessly networked vehicles is provided by AirTouch. This feature empowers intuitive control of entertainment, navigation and communication functions using simple gestures made with a flat hand. AirTouch allows the display in a vehicle to be operated like a touchscreen without actually having to make contact with the surface. Sensors record the hand movements in the area between the central console and the interior mirror. This enables drivers or passengers to change the focus on the surface of the large panorama display. Simple confirmation selects the relevant menu item or activates an icon.
BMW already has Gesture Control in its new 7 Series, but AirTouch is said to take another leap forward.
The intelligent AirTouch menu control reduces the number of steps needed to make a selection. For example, when activating the phone pad, the system automatically brings up contacts or call lists to the top select level so that a call can be made with just one further action. AirTouch recognises which selection and control steps are required next and displays them in advance. This allows the driver to focus all their concentration on the road ahead or offers additional convenient control options when the vehicle is travelling in highly automated mode.