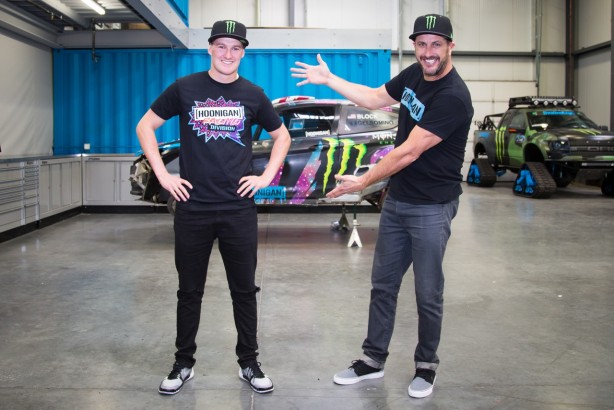 Andreas Bakkerud has been confirmed as the latest addition to Ken Block's Hoonigan Racing Division. Andrea will become part of the two-car supercar team and will race in 2016's FIA World Rallycross Championship.
Bakkerud drove for Ford MSE in last year's World RX alongside Reinis Nitiss finishing fourth in the overall drivers' standings and taking the victory at World RX of Italy.  In 2014, Bakkerud triumphed at the inaugural World RX of Turkey and in previous years took wins in both Sweden and France.
"I'm really excited about the opportunity to race alongside Ken and his team – that happens to be one of the best motorsport teams in the world!" said Bakkerud, who won the FIA European Rallycross Championship in Super1600 in both 2011 and 2012. "I love rallycross and I've been able to have a few good seasons back-to-back. And the car? Ford Performance and M-Sport are building us one of the best cars to ever compete in rallycross."
The 24-year-old from Bergen in Norway continued: "I think that working with Ken and his team in 2016 is really going to help me elevate my driving even further, plus I've always admired the way they handle exposing and marketing themselves both on and off event. I think this whole thing is an incredible opportunity not only for myself behind the wheel this year, but to learn and develop myself for the future as well. I can't wait for the season to start! Thanks again to Ken and his team for this dream opportunity."
"I'm really excited that I've got Andreas joining me on my team this year," concluded Block. "I chose Andreas because he's damn good behind the wheel of a rallycross car and he's proven that he can win races. He's also got experience racing the Ford Fiesta ST chassis the last few seasons, which is important. I'm confident that with him on my team, we will be strong contenders for the 2016 FIA World Rallycross Championship."
Bakkerud will join Block on the starting grid at the World RX season-opener in Portugal (15-17 April).