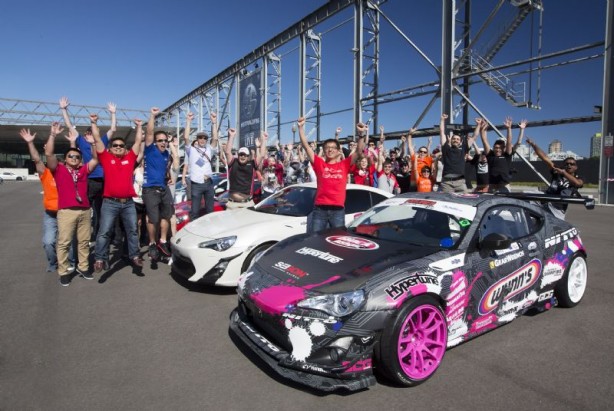 The 2016 Festival of 86, a national celebration of Toyota's cult sports car, is set to draw dedicated owners and enthusiast admirers from all over the country when it kicks off in Canberra this Saturday (May 7).
This is the third Festival of 86 held in Australia since the car was released locally in mid-2012, with the Sutton Road Driver Training Centre ready to entertain hundreds of Toyota 86 fanatics with a free-of-charge celebration event.
Highlights include race car passenger hot laps on the centre's 2.5km road course for lucky draw winners, drift rides on the skid pan, and of course an amazing array of machinery on show.
Extensively modified custom cars will fill a large central display area, with classic Toyota sport models, including the AE86, mid-engine MR2, Celica and Supra, also forming a dedicated historic exhibit.
Toyota Australia is using the event to launch its one-make Toyota 86 Racing Series, which will be contested at selected V8 Supercars rounds, starting at the Winton SuperSprint (May 20-22).
The Toyota 86 Racing Series is designed to provide an entry point and training ground for up-and-coming drivers, with Toyota adding guest professional racers (several of whom will be running hot laps at Sutton Road) at every round to help mentor amateur entrants.
Toyota 86's global chief engineer, Tetsuya Tada, a rock star in the world of 86 enthusiasts, is travelling from Japan and will be on hand to sign autographs on everything from components, including the car's dash panel and engine cover, to model cars, T-shirts, owner's manuals and posters.
Toyota Australia executive director sales and marketing Tony Cramb said the festival's continuing popularity is further evidence of Australia's ongoing love affair with the 86.
"With over 16,000 cars sold in just on four years on sale, Australia is the 86's largest market per-capita in the world," Mr Cramb said.
"Previous Festival of 86 events have drawn big crowds of passionate people from all over the country, and we're excited to be supporting its third running," he said.
Entry to the event is free, and includes food and drink vouchers, as well as tickets to go in the draw for road course and skid pan hot laps. There's also a range of Toyota 86 and Toyota 86 Racing Series merchandise available, as well as face painting, glitter tattoos and balloon sculptures for junior 86 fans in The Kids Zone.