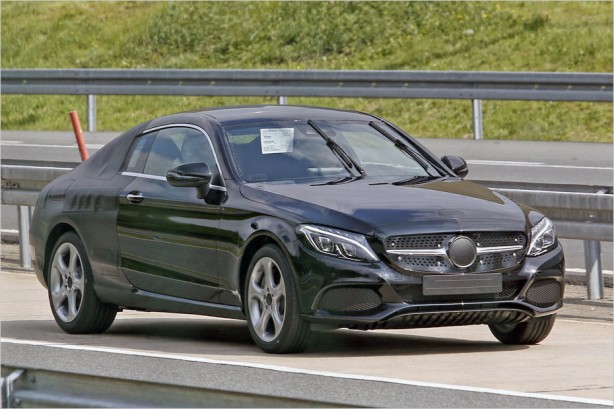 The 2016 Mercedes-Benz C-Class coupe has been caught undergoing testing at a private test facility.
With only the rear half of the car camouflaged this time around, the next-generation C-Class coupe sports familiar front fascia with the sedan, with an upright grille flanked by a pair of headlights closely resembling its four-door counterpart's.
However, the similarities end there, with the coupe employing frameless door windows and different wing mirrors that is mounted on the doors.
Unlike the current C-Class coupe, which carries a similar tail end treatment with the sedan of its generation; the 2016 model can be seen with slender taillights that mimic the S-Class coupe's design. It will also be slightly longer than the outgoing model.
Rivalling the BMW 4 Series, Audi A5 and Lexus RC, the next-generation C-Class is expected debut at the Frankfurt Motor Show in September, before hitting production at the end of the year. It will feature similar drivetrain and powertrain as the sedan lineup when it arrives in Australia in 2016.