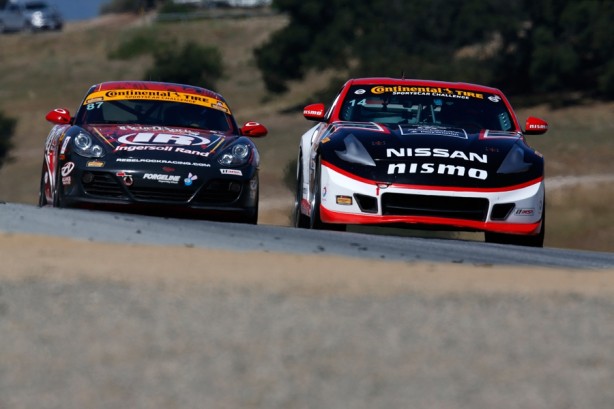 The third round of IMSA Continental Tire Sports Car Challenge (CTSCC) took place over the weekend at the Mazda Raceway Laguna Seca. When the checkered fell after two and a half hours of competition around the iconic, 2.238-mile (1.61-Km), 11-turn racing circuit, only 0.836 of a second separated the top three cars.
Snatching the chequered flag was the Chevrolet Camaro Z/28.R driven by Andrew Davis and Robin Liddell. The Ford Mustang Boss 302RIn came in second place, with Billy Johnson and Scott Maxwell behind the wheel.
Nissan fans were happy because that third car was Doran Racing's #14 Nissan 370Z co-driven by Brad Jaeger and B.J. Zacharias and advertising Nissan's popular GT Academy.
The CTSCC is a grand touring and touring car racing series with two classes in each race: The Grand Sport (GS) class features large-displacement 6-cylinder, 8-cylinder, 10-cylinder or 12-cylinder sports cars as well as small displacement 4-cylinder forced induction or wankel sports cars, while the Street Tuner (ST) class is for smaller 4-cylinder, 5-cylinder or 6-cylinder sedans, hatchbacks, coupes or convertibles.
2015 CTSCC Round 3 Result (top 10)
1 Chevrolet Camaro Z/28.R
2 Ford Mustang Boss 302R
3 Nissan 370Z
4 Porsche 911
5 Ford Mustang Boss 302R
6 BMW M3
7 Ford Mustang Boss 302R
8 Porsche 911
9 Chevrolet Camaro Z/28.R
10 Aston Martin Vantage