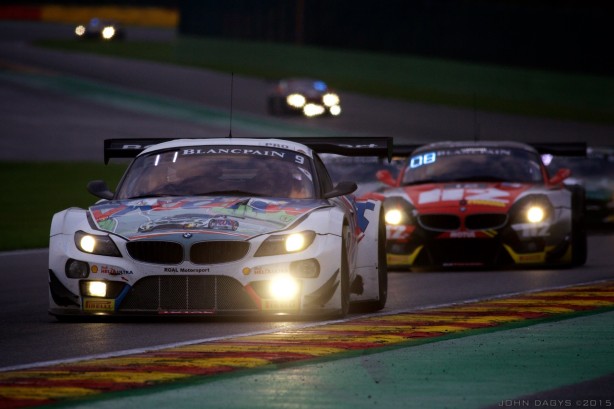 In their sixth attempt at the Total 24 Hours of Spa, the Belgian BMW Sports Trophy Team Marc VDS finally took their first win on home soil.
The #46 BMW Z4 driven by Nick Catsburg, Markus Palttala and Lucas Luhr completed 536 laps, taking fastest lap for good measure, crossing the line a lap ahead of the #2 Audi Sport Team WRT's R8 LMS in a typically eventful race in changeable weather.
Third was the #5 Audi Sport Team Phoenix R8 LMS, which claimed the last podium spot one hour from the end when the #99 Rowe Racing Mercedes SLS AMG GT3 was pushed into the box with a broken alternator.
All other candidates for the win lost time due to technical problems or completely fell by the wayside after an incident, especially during the tricky conditions of the early hours.
24 Hours of Spa results
| Pos | Class | Driver | Team | Car | Gap |
| --- | --- | --- | --- | --- | --- |
| 1 | Pro | M.Palttala, N.Catsburg, L.Luhr | BMW Sports Trophy Team Marc VDS | BMW Z4 | 24h00m53.611s |
| 2 | Pro | F.Stippler, S.Ortelli, N.Muller | Audi Sport Team WRT | Audi R8 | 1 Lap |
| 3 | Pro | C.Mamerow, C.Mies, N.Thiim | Audi Sport Team Phoenix | Audi R8 | 2 Laps |
| 4 | Pro-Am | S.Lemeret, P.Lathouras, A.P.Guidi, G.Bruni | AF Corse | Ferrari 458 | 5 Laps |
| 5 | Pro | A.Lotterer, M.Fassler, M.Rockenfeller | Audi Sport Team Phoenix | Audi R8 | 6 Laps |
| 6 | Pro-Am | F.Guedes, D.Cameron, M.Griffin, D.Rigon | AF Corse | Ferrari 458 | 7 Laps |
| 7 | Pro-Am | A.McCaig, D.Modell, O.Bryant, A.Sims | Ecurie Ecosse | BMW Z4 | 9 Laps |
| 8 | Pro-Am | L.Machitski, J.Minshaw, J.Cocker, P.Keen | Team Russia by Barwell | BMW Z4 | 9 Laps |
| 9 | Pro | H.Primat, V.Abril, M.Parisy | Bentley Team HTP | Bentley Continental GT3 | 9 Laps |
| 10 | Pro-Am | S.Leonard, M.Meadows, S.Mucke, T.O.-Cole | Leonard Motorsport AMR | Aston Martin Vantage | 13 Laps |
| 11 | Pro-Am | A.De Leener, C.Sbirrazzuoli, R.Giammaria, T.Vilander | AF Corse | Ferrari 458 | 15 Laps |
| 12 | Pro | H.Haupt, A.Al Faisal, Y.Buurman | Black Falcon | Mercedes SLS AMG | 16 Laps |
| 13 | Pro | S.Jimenez, F.Fraga, C.Bueno | BMW Sports Trophy Team Brasil | BMW Z4 | 20 Laps |
| 14 | Am | B.Simonsen, I.Loggie, J.Westwood, C.MacLeod | Team Parker Racing | Audi R8 | 23 Laps |
| 15 | Pro | K.Chiyo, W.Reip, A.Buncombe | Nissan GT Academy Team RJN | Nissan GT-R | 23 Laps |
| 16 | Pro | N.Bastian, S.Dusseldorp, D.Juncadella | ROWE Racing | Mercedes SLS AMG | 25 Laps |
| 17 | Am | J.Haring, D.Konstantinou, F.Schmickler, P.Wlazik | Attempto Racing | Porsche 997 GT3 | 25 Laps |
| 18 | Pro | B.Senna, A.Q.-Hobbs, A.Parente | Von Ryan Racing | McLaren 650S | 25 Laps |
| 19 | Am | S.Earle, L.Talbot, M.Zanuttini, M.Rostan | Kessel Racing | Ferrari 458 | 26 Laps |
| 20 | Am | C.Bourret, P.Gibon, P.Polette, J-P.Belloc | Akka ASP | Ferrari 458 | 26 Laps |
24 Hours of Spa gallery (Photos: John Dagys & Vincent Wouters)