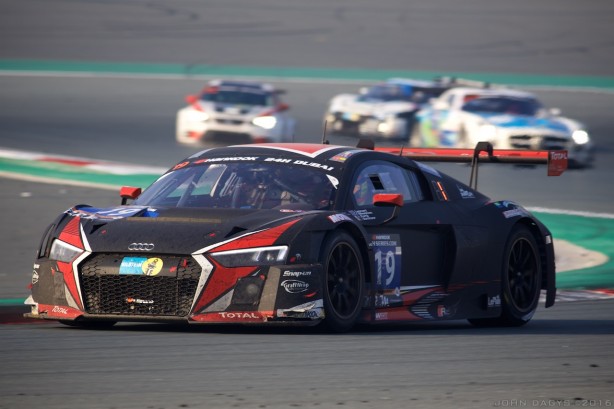 Audi Sport customer racing has started the 2016 racing season with a strong result, as the Belgian Audi Club Team WRT won the 11th Hankook 24H Dubai endurance race at the Autodrome with the Audi R8 LMS.
Crossing the finish line with 588 laps on the board, the squad of Alain Ferté/Stuart Leonard/Michael Meadows/Laurens Vanthoor (F/GB/GB/B) striked a winning margin of five laps over second placed Black Falcon Mercedes SLS AMG GT3 and eight laps ahead of third placed C.ABT Racing Audi R8 LMS.
It was the first victory for Audi in Dubai, having already won the 24-hour race at the Nürburgring and the Sepang 12 Hours in 2015.
The production-derived race car, 50 percent of which is based on the road-going model, proved its prowess in qualifying earlier in the weekend. Fielded by the squads of C.Abt Racing and Land-Motorsport, two new Audi R8 LMS cars shared the front row of the race, ahead of a 98-strong field of entrants.
"Sincere congratulations to the two Audi customer teams on podium," said Romolo Liebchen, Head of Audi Sport customer racing. "On clinching today's success, our GT3 sports car has won all renowned endurance races and been victorious for the first time in the Middle East. This is a great way to set the stage for the market launch of the new Audi R8 in this region in March."
24H Dubai overall results (top 10)
1. Belgian Audi Club Team WRT – Audi R8 LMS
2. Black Falcon – Mercedes SLS AMG GT3
3. C.ABT Racing – Audi R8 LMS
4. Hofor-Racing – Mercedes SLS AMG GT3
5. Optimum Motorsport – Audi R8 LMS
6. Preci – Spark – Mercedes SLS AMG GT3
7. Car Collection Motorsport – Audi R8 LMS
8. V8 Racing – Chevrolet Corvette
9. HB Racing – Lamborghini Huracan GT3
10. Konrad Motorsport – Lamborghini Huracan GT3
View a selection of photos from the 11th annual Hankook 24 Hours of Dubai. (Photos: John Dagys)