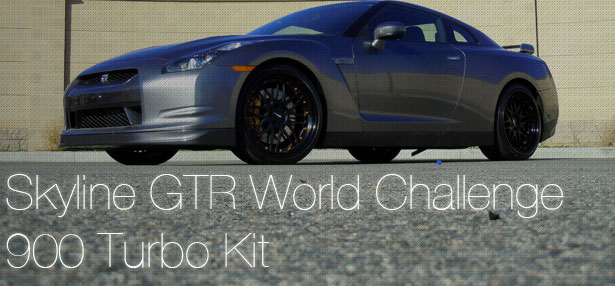 Renown Porsche tuner GMG Racing has embarked on a new territory and released their first performance upgrade package for the Nissan GT-R. Having churned out some remarkably tuned Porsche's, GMG Racing is now applying their magic on the GT-R.
In line with GMG's usual traits, the new World Challenge performance kit spares no compromise. It comprises 3 different levels of tuning. With the basic setup the car produces 900 horsepower at the flywheel, making it one of the most powerful Nissan GT-R's around. But that's not all, Level 2 adds another 100 horsepower to bring power up to 1000 horsepower while the Level 3 tuned GT-R is capable of an insane 1200 horsepower!
The highlight of the kit includes:
GMG Investment cast Inconel 62X Equal length & Symmetrical Exhaust Manifolds
GMG  designed  & custom built dual ball-bearing turbochargers with proprietary compressor aerodynamics
Twin External water-cooled 38mm waste gates with proprietary GMG actuators
Motorsport inspired 76mm stainless steel and aluminum air intake system
GMG Custom calibrated MAF Sensors for 1000-1800 hp
GMG Ultra fast high flow fuel injectors
GMG designed 4-Ply Aramid / Nomex reinforced pure silicon custom hoses and couplers.
Dual 76mm Stainless steel dual downpipes with V-band terminals
Stainless steel hardware & clamps, CNC bent stainless fluid control hardware
Level 1 Specifications:
GMG WC Inconel exhaust manifolds
GMG WC spec turbo chargers
GMG WC downpipes- 3″ T304 stainless steel ,tig welded
GMG WC Sport exhaust system 3.5″ primary tubing, T304 stainless – tig welded.
Divorced waste gates that are also available water cooled.
Stainless steel turbo oil feed and coolant lines ( hard lines)
V-Band flanges for turbo to manifold and turbo downpipes as well as waste gates.
6 Bosch motorsport injectors that have been balanced and tuned.
Bosch motorsport high volume fuel pump
2 Sport air filters
Stainless steel turbo inlet ( intake ) tubes with stainless CNC machined MAF housings.
Custom calibrated high flow MAF sensors includes revised electronics wiring.
Custom software calibration for 91/93 , 100 octane fuel ( c16 tuning available)
Custom turbo inlet tubing mandrel bent tig welded T304.
New motorsport spark plugs
Aerospace grade hardware throughout
New gaskets and seals
Replace engine oil and filter
Replace coolant
Replace power steering fluid
Certificate of authenticity with serial number.
Level 2 Specifications
Same as Level 1 above but includes the following additional items and services:
High flow sport Intercooler
Larger GMG WC turbochargers with custom calibration set up for street, track or strip.
Complete fuel system upgrade includes all feed lines throughout the car.
6 Bosch motorsport injectors that are custom calibrated for greater fuel supply of the upgraded fuel system.
2 Bosch motorsport fuel pumps.
Custom software calibration for 91/93 , 100 octane fuel ( c16 tuning available)
GMG World Challenge Level 3 Specifications
Larger GMG WC turbo chargers optimized for intend use , street, strip or track.
Complete rebuild of engine bottom end, includes balancing and blue printing.
Upgrade transmission and clutch packs
Upgrade trans cooler with high volume remote pump
Source: GMG Racing